Get your E-Bike ready for Summer!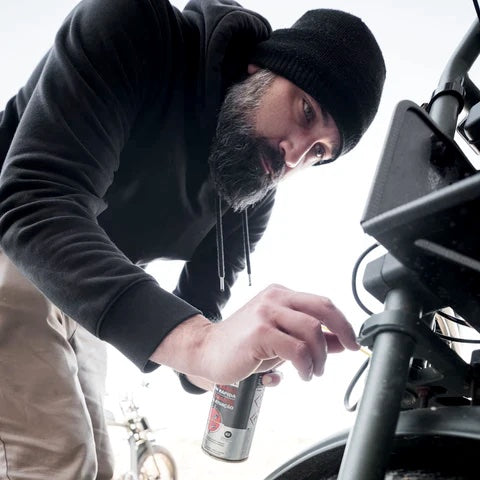 Can you feel it? We can. Spring is just around the corner (thank goodness.) Finally, the days are getting longer, the sun is getting warmer, the spring flowers are coming up, lambs are being born, bunnies are hopping around the fields… You get the picture. 
Turning the page into spring is always an exciting time. For one, it means we can get out on our bikes again! Many of us leave our e-bikes in the shed over winter, patiently waiting for the first signs of better weather and longer daylight hours, but now it's time to get them ready for spring rides. Let's get out of hibernation with the 50 Rebels guide to the first E-bike rides of Spring. 
E-Bike Servicing after Winter
Rusty E-Bike Parts:
The first thing we need to check is if anything is rusty or damaged after a couple of months without use. Let's check for rust first. 
Common places where you might find rusted parts are here:
Bolts at the front end of the bike, by the handlebars and forks.

Cranks and chainring bolts. 

Pedal axles

Chain

Cassette

Gear mech (rear derailleur)
Don't worry, it's normal to find some or all of these parts affected by the weather, and it doesn't mean they're going to fail on you. With a little care, we can make sure your bike looks and feels as good as possible.
How to Fix Rusty E-Bike Parts:
There are several solutions available to clean and help protect these parts from the elements. Using our chain cleaner tool and chain cleaning spray, you can make sure your drivetrain is well and truly out of hibernation. 
For other parts that need renovation, we recommend some basic cleaning followed by our silicone protectant spray. This gives vulnerable parts a barrier against moisture and dirt and should keep them looking cleaner for longer.
E-Bike Maintenance before Spring
Sure, there are some maintenance jobs that are a bit more technical than those listed above. For any more complex issues, we recommend following our after sale support videos on Layerise or visiting your local bike shop. 
Which E-Bike parts to replace
Some parts might be showing the wear and tear from last year's rides. Or rather, they might look like a record of all the fun you had! Either way, some things get worn and now is a good time to replace certain parts. 
Obvious things to check and replace are your tires and inner tubes. We recommend keeping a reserve of spare inner tubes (at least 2) so you know you're covered. 
20x4 E-Bike Tire Options
If it's time for some new 20x4 tires, there are several options available depending on how you use your bike and what you'd like it to look like. 
For all terrain use, we stock Kenda Krusade tires. These are knobbly which means they're designed to hold their grip on loose / dusty / hard pack dirt roads (as well as on tarmac, of course.)
If you're predominantly riding your bike in towns and cities, you might want a slicker, faster rolling tire. We have two options, the all black Kenda Kruze tires or the white wall Vee Speedster tires. If you've never thought about adding white wall tires, maybe now is the time… It's a big look. 
E-Bike Cleaning for Spring
Let's get your E-Bike looking smart for its spring debut. A simple way to give the rig a glow up is to clean it! There are many ways to clean a bike, though our favourite is this frame cleaner specifically made for e-bike frames. It works a treat on our bikes, making them look fresh and appealing even after the dirtiest days.
Useful Accessories for E-Bikes
While we're getting prepared for spring, it's the perfect time to stock up on some other useful bits and pieces for your e-bike journey. 
For peace of mind against punctures and flat tires, our Inflate & Repair spray.  is ideal. It's super easy to use and can be just what you need to get out of a tough situation. For when the weather turns (like it does) you can be prepared with our E-Bike Rain Cover.  We also have some of the best E-Bike Locks available, and if you don't already have Foot Rests, that let you take a passenger with you, then you know what to do now.
Photos and Text: Robin Pearson
---