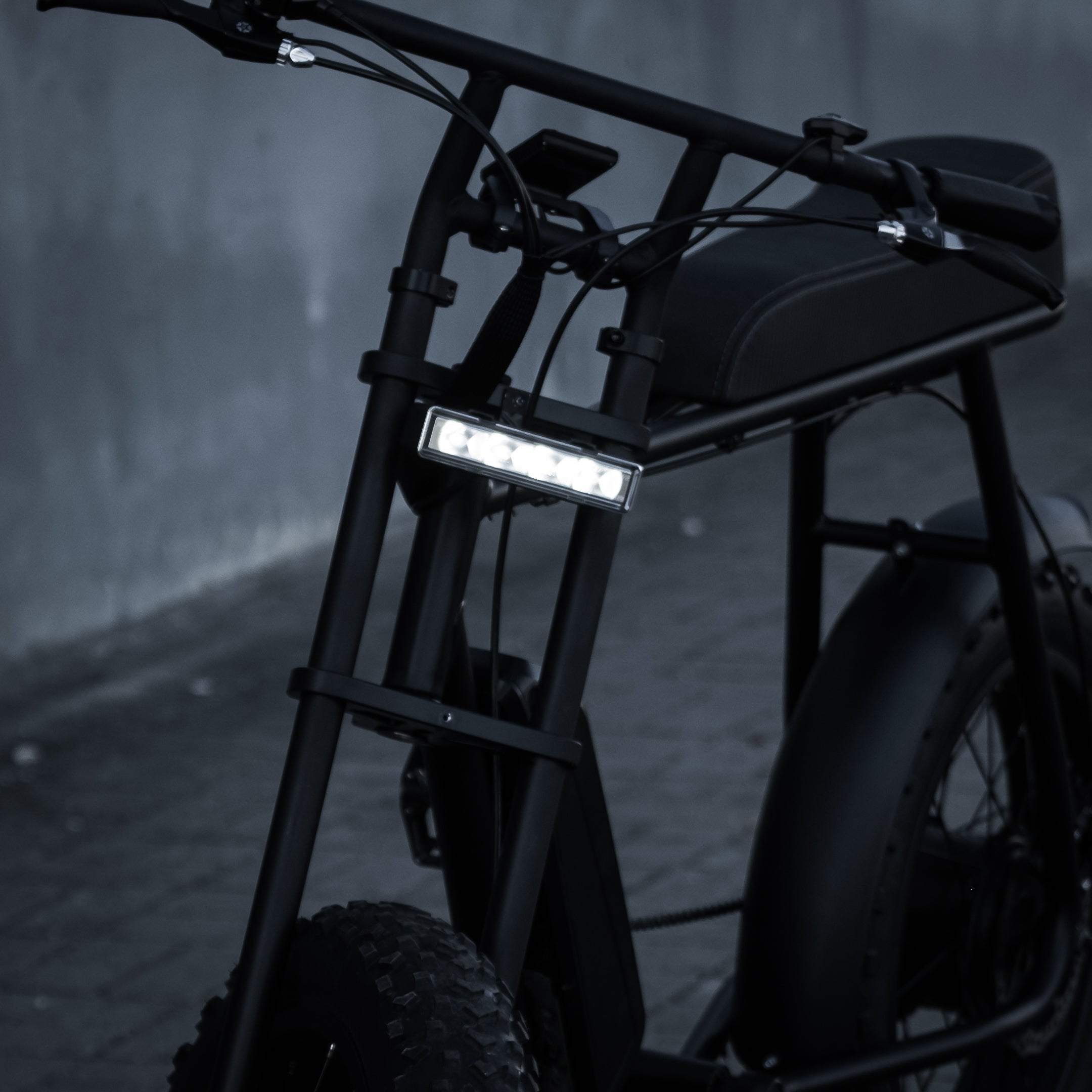 Frequently Asked Questions
Reach us if you need any help
You can place your order directly with us in our shop in Torres Vedras, or with our official partners, online, by phone or by e-mail.
We will then check stock and accessory availability and confirm your order personally with the expected delivery date and any alternatives.
Of course, we not only offer free test drives in our store inTorres Vedras, but we also have a European-wide partner network, through which we can organize test drives near you! 
No, at the moment we only sell complete bikes.
For commercial customers and in some individual cases, we offer the possibility to start production with a down payment and to pay the balance upon delivery. In addition, our bikes can also be ordered via Leasing. We will be happy to prepare individual offers for this.
It is possible but only for pre-orders. If you want to order a bike we can arrange a payment plan for you via Bank transfers, but the balance needs to be settled when the bike gets shipped.
You may have spotted it already on our website, some of our customers are lucky enough to order their bike as a pre-order.
But, what does it mean exactly you may ask? It's simple: when you purchase your new e-bike as a pre-order, it means we don't have all the parts necessary for the assembly of your bike in our factory.  
Practically, what does it mean for you? Well, it means you will get a discount. And like most things in life, the bigger the discount, the longer the wait for your bike.
It could happen (not necessarily mean it would) but it could happen that you will experience delays from the estimated delivery date. We understand that this can be very disappointing for our customers but, please keep in mind that this is a risk worth taking considering the discount you get when buying a pre-order. We like to emphasize that what you save in money, you pay with patience. Of course, you can always reach out to us if you miss your bike a little bit too much, and we will keep you informed during the waiting time and if there are any delays.
There can also be positive surprises like with our R2021 batteries. We were able to source better batteries and took the costs upon ourselves. Please know that we will always make sure we do everything to keep the best quality and service.
If this is the case, please send an email to sales@50rebels.com with your name and location and we will see if we can give you a custom shipping quote.
Our e-bikes are delivered in a large special box almost ready to ride. Only minor adjustments to the handlebars and the assembly of the pedals and the side stand are necessary (necessary tools are included).
If required, we will be happy to guide you personally by phone through the approx. 5-minute set-up process!

For R-Series and V-Series bikes the bike comes assembled with two parts to be mounted: pedals need to be put in place & handlebar needs to be put in and tightened. That's it. The whole process takes about 2 minutes all in all.
When your bike arrives, please be careful when unpacking. If necessary, cut open the cardboard box, then you can roll the bike out. However, be careful with the rear part, as the rear light is mounted exactly where you would automatically grab it and the rear light cannot carry a lot of weight. Better keep it on the side a little. The rear part is also much heavier as this is where the battery is packaged.
When cutting open the cable ties on the handlebars, be careful not to drop the handlebars. A hexagon 10 (classic IKEA key) is required to mount the handlebars. Please tighten very, very firmly.
The pedals are marked with R and L. A size 15 or 16 wrench is required for fitting.
The battery should be charged.
In case you have any questions or questions that need to be answered immediately, you will have a personal account manager that will help you.
As of january 2023 the prices are:
Austria: €90
Islas Baleares: €330
Belgium: €80
Denmark: €105
Finland: €130
France: €80
Germany: €85
Ireland: €170
Italy: €95
Netherlands: €90
Norway: €165
Portugal Continental: €70
Portugal Azores: €135
Spain: €80
Sweden: €210
Switzerland: €210
UK: €300

Please keep in mind, that these might change due to further inflation or market change.
Of course! The following applies here: We take care of the transportation and export fees and the client will need to pay (import VAT, and customs clearance fees).
Yes, you can also pick up your bike yourself in your closest store and have it adjusted by us!
Our e-bikes are assembled for you by hand and individually equipped for you. After a thorough quality check, we pack the e-bikes in a very elaborately built protective & freight box in almost ready-to-ride condition.
Therefore, delivery times vary depending on order situation, model and equipment - please contact our support team for further delivery details.
In case of dispute the consumer can resort to the European Online Consumer Dispute Resolution Platform, available at:
At this link or to any Consumer Alternative Dispute Resolution Entity.You can consult the updated list of Alternative Dispute Resolution Entities available under article 17 of Law no. 144/2015, of 8 September, on the Consumer Portal, through the website www.consumidor.pt.
Passenger transport and multi-seat driving
Yes! According to the Portuguese Road Traffic Legislation (91º Article), and to the German Road Traffic Licensing Regulations (StVo) amendment 2021, it is expressly permitted to take one person on a bicycle, provided that the vehicle offers a seating option intended for this purpose, i.e. it is built and equipped for the transport of two persons (seat and support for the feet).

This is the case with all 50 Rebels e-bikes , R-Series and V-Series modells, as well as UNI MK and UNI SWING!
The frame and the seat of these bikes are specially calculated and designed for two-seater operation. The maximum load is 135kg for 50 Rebels models and 150kg for Uni MK Classic and The Swing models. Of course, there are restrictions in operation (hill performance, speed, braking distance, wear).
Of course! Our e-bikes allow, depending on the model, to accommodate one or two children in the front or back of the long seat as long as they are transported in safety. For toddlers / babies we offer child seats and foot protectors.
Of course, children can also be taken along in approved children's transport trailers.
Warranty and guarantee refer to two different types of claims. If an e-bike does not meet the specified quality after purchase and has defects, the customer is entitled to a statutory warranty. The claim only applies if the defect is not self-inflicted.wear parts take a special position in the warranty. Warranty claims remain valid even in warranty cases.
The customer has a statutory warranty claim of 2 years. This applies to material, production and design defects. Since January 2022, the burden of proof lies with the dealer/manufacturer in the first 12 months From of purchase. He guarantees that his product is free of defects when the contract is concluded. From The so-called "reversal of evidence" applies from the 13th month. Now the burden of proof lies with the consumer.
We provide 2 years EU consumer warranty and 1 year on electronic components. Wear parts such as brakes, gears and grips are excluded from the regular warranty, unless there is a production defect. For commercial use, the warranty is based on the respective warranty defined in the order.
The warranty is offered voluntarily by manufacturers and dealers and usually refers to the functionality or durability of certain components over a certain period of time. Since the warranty is a voluntary, manufacturer-dependent benefit, it can vary from manufacturer to manufacturer. Conditions, duration and scope are thus determined by the manufacturer. A warranty can in no case reduce or replace the warranty. 50 Rebels Company, Lda offers an extended, three-year warranty on the bicycle frame apart from the legally required warranty. We offer to repair damaged main frames within this period or to exchange them for frames of equal value. It does not have to be an identical frame.
A special warranty situation arises in the case of wear parts. This is because wear parts are not covered by the warranty if they have "worn out" through use. Here is an example: The bicycle has been delivered to the customer without defects. Within the first 6 months, the rim brakes, for example, are subjected to heavy use, so that the brake pads are worn down and have to be replaced. In this case, the brakes are not subject to warranty, as it represents normal wear and tear through use of the bicycle. 
In particular, the following parts are considered wear parts: Batteries, brake discs, brake pads, bushings, seals and bearings in chassis parts (fork, shock), rims (for rim brakes), grips, bottom bracket, chain, chainrings, bearing sets for full-suspension frames, hub bearings, tires, sprockets, headset, cables, saddle, retractable seat posts.
Furthermore, a separate right of withdrawal applies to purchases in the online store. The buyer may revoke the purchase contract within 14 days without giving any reason. The revocation obligation begins on the day after the ordered goods have been received by the customer. In order to make use of the right of withdrawal, the declaration of withdrawal must be received by the seller by e-mail, mail or fax within 14 days From delivery. The right of withdrawal does not apply if the customer has previously been able to physically test the products, but only for unseen goods. 
Sizing, adjustment of components and a test ride are important and advisable. If you do not fit or like the bike, we will have it picked up free of charge by a freight forwarder after your revocation. A storage of the box is important. When returning the bike, please note that it must remain unused and as new. So the wheel may be tried, but not used.
If you have mechanical issues with your bike, it's usually easiest to take it to your local bike shop for help.

Bafang-Shops
Our bikes are built with parts from the biggest brands in the world but in a very modular way. We have a Bafang motor (whose EU headquarters are in Amsterdam), Shimano gear system and Tektro brakes, Hailong battery with Samsung Cells (which is standard on many e-bikes), Bafang display, and Higo-Connectors. If a shop knows e-Bikes, they will recognize these parts and can easily fix them.
Video-Troubleshooting
Our bikes can also often be fixed by you or with our help. There are 4 critical parts that need to be checked and we have spare parts that can be sent throughout Europe.
Partner-Shop-Network
We are building a partner network with shops that are also able to fix our bikes and that we can send our customers to and therefore give them more reassurance.
Last resort: Postal service
Our logistics partner (Dachser Logistics) will come to pick up the bike for €100.- and bring it to us, we check it here and send you back a fixed bike. This will take 3 weeks until it is back with you. You will get the money back in case the issue falls under the product guarantee - like a burned wire or connector (which is very unlikely).
Technical questions & accessories
250W
This is the legal limit in the EU for the bike to be legally a bicycle (EPAC) - everything more is counted as a speed pedelec and needs a license and insurance.
500W
This is only legal in Portugal, Italy, Switzerland & Austria for EPACs. It means a little more top speed max. legal speed in Europe is 25km/h for all E-bikes. and more power on the hills.
750W
This motor (750W) is only street-legal in Portugal & Denmark.
Customers outside these countries will have to sign a legal waiver before delivery, pledging not to use this bike outside their private property. This is basically an electric motorcycle. It gets anyone up a hill with no pedaling. But especially in northern countries, this is highly illegal on public roads without type approval, license, and registration. If you live in the countryside with no police and a lot of non-public roads, it's fun to ride. But really not a bicycle anymore...
The bikes are limited to 25 km/h.
However, if you sign a waiver you can access the speed limit and push it to the speeds mentioned below, to be used on private roads
250W - 32-33 km/h
500W - 35-37 km/h
750W - 42-45 km/h
All technical data is the same for both models. The frame is different, this leads to a different riding experience depending on the model.
The V-Series has a low step-in. This makes it easier to get on and off, especially when carrying a heavy load.
4 led lamps each 3w, 334 lumen total.
Mechanical brakes are usually enough for most people. Hydraulic brakes are more direct, always brake on exactly the same pressure and don't make a grinding noise when you pull the lever.
The seat height is between 85cm (front) and 87cm (back). It can not be adjusted in height, but you can manage it by sliding more to the back or the front, like on a motorcycle.
50 Rebels e-bikes - R-Series and V-Series - are calculated for a total load of 135 kg and can even withstand a lot more in practice.
Uni MK Classic and the Swing e-bikes are calculated for a total load of 150 kg and can even withstand a lot more in practice.
A UNI MK/Swing weighs between 29 kg and 33 kg, depending on the equipment.
A R-Series/ V-Series model weighs around 29kg in their standard spec.
Just like 50 Rebels bikes, the UNI MK comes in one frame size and can be comfortably ridden by riders between 155cm and 195cm tall. People can easily adjust like in a motorcicle.
 The UNI Swing is designed for a body height of 150 cm to 190 cm. Some members of our community even exceed the 2 metre height mark and ride comfortably on the UNI MK. Nevertheless, we recommend taking a test ride to ensure your own comfort.
We have developed our e-vehicles for a global market and only use proven and globally available branded products from leading manufacturers in our production. 
This not only ensures the long-term supply of spare parts, but also enables our customers to have their e-bikes serviced by any qualified e-bike mechanic! We also work together with a network of workshops.
We keep all spare parts for our bikes in stock. But even if we should no longer exist, the supply of spare parts is guaranteed.
We have developed our e-bikes for a global market and only use proven and globally available brand products from leading manufacturers in our production.
For legal reasons, we do NOT offer tuning or performance-enhancing accessories and expressly point out that performance-enhancing measures invalidate any warranty and result in the loss of the operating permit on public roads. 
We have a thumb throttle that we can add to your 50 Rebels e-bike, that is not a problem. It can be added per plug&play, as the connector is already on the bike. You will have to sign a document saying that you know the use of a thumb throttle is illegal when used on public roads in the EU.
We reserve the right not to give a warranty on the engine if the thumb throttle is installed. if you have further questions regarding this please contact us: sales@50rebels.com
Yes. 50 Rebels e-bikes have a regular 7-speed gearbox and Uni Mk and The Swing e-bikes have a regular 9-speed gearbox and can also be ridden very well on flat terrain without any power at all.
Once you receive your order we will let you know by e-mail.
It is normally powered by the bike battery. It also has an external battery that lasts up to 3 weeks when the bike battery is not installed. You get an instant notification on your phone as soon as your bike starts moving.
We offer different battery types & capacity models:
50 Rebels e-bikes (R-Series and V-Series):
- 20 Ah 48V Hailong Battery (920wH/ approx. 100km)
- 15 Ah 48V Hailong Battery (720wH/ approx. 70km)
UNI MK & UNI Swing e-bikes:
19.2Ah 48V Silverfish battery (920wH/ approx. 100km)
UDX E-Bikes:
13.8Ah 48V Hailong (approx. 60km)
17.25Ah 48V Hailong (approx. 70km)

Of course, the range depends very much on vehicle type/weight, terrain, load, tyre pressure & type, wind and road conditions as well as other factors and can vary greatly.
Yes, you can remove the battery in one easy step and charge and store it at home or in the office!
Our batteries contain high-quality Samsung cells. However, an e-bike battery is still a wearing part and loses about 20-25% of its original capacity within 700-1000 charging cycles From.
One charge cycle is a full charge from 0-100%.
Are There Unanswered Questions?