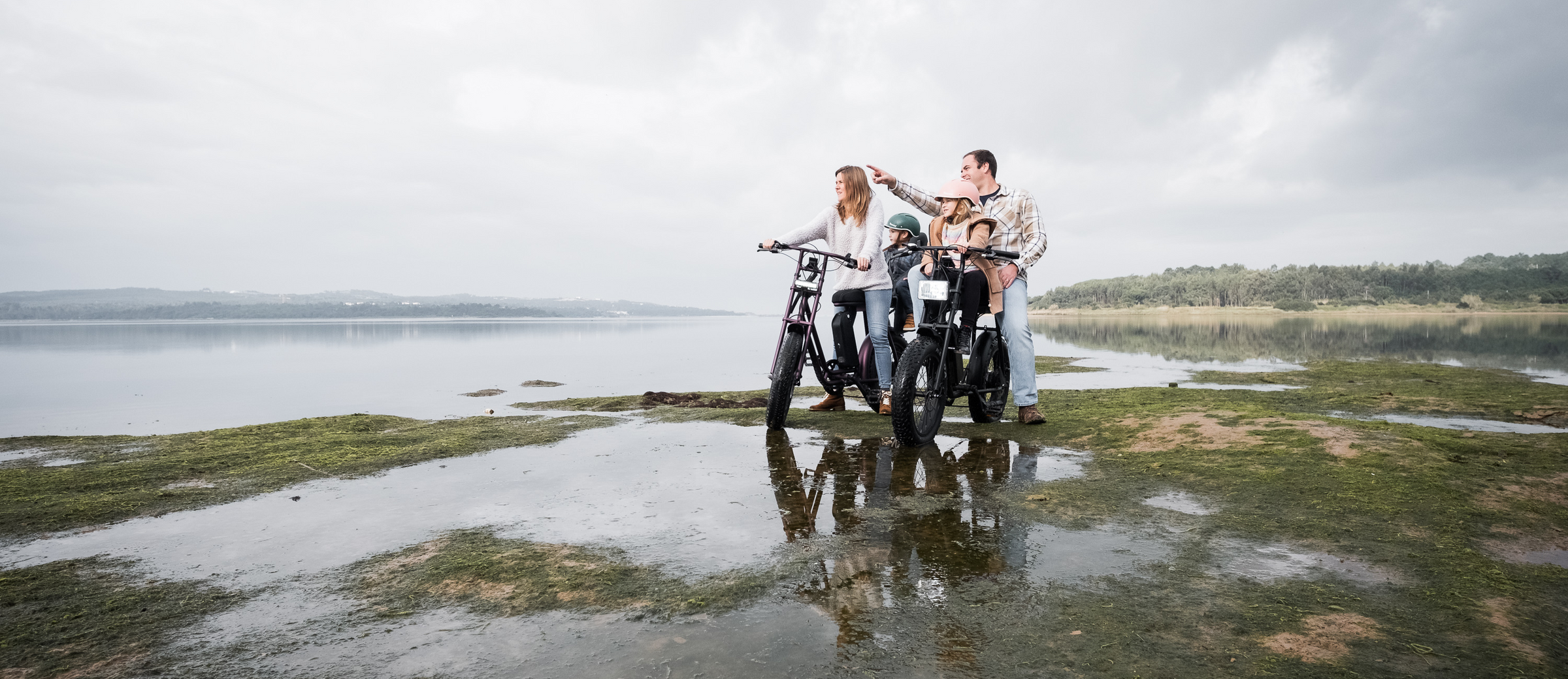 Save up to 550€!*
The Portuguese state assembly decided to reduce the VAT rate on bicycles and electric bicycles to 6%.
If you live in Portugal, you can enjoy nearly 14% off your 50 Rebels E-Bike, saving up to 550€*, depending on your preferred model!
Contact our team to learn more about this and subsidies like the Fundo Ambiental.
*VAT discount value for the R-Series Large 750W 20Ah (100km)
Do you want more?
Some Portuguese municipalities offer subsidies to those who want to purchase a new E-Bike. This is the case in Braga!
If you live in Braga, you can receive up to €200. This means that you can get a brand new 50 Rebels with up to €750 off (VAT discount and subsidy combined)! Get in touch with us to secure your VAT discount and receive assistance with your subsidy application!
What about Fundo Ambiental?
This year, Fundo Ambiental is once again providing support of €500 for the purchase of e-bikes for private use.
Similar to last year, in 2023, the Fund will support the purchase of 4550 electric bicycles, and applications are ranked based on the date and time of submission of the incentive request.
We would like to remind you that support will only be granted to applications that meet all the requirements after validation.
Anyone with an invoice dated after January 1, 2023, can apply.
As stated in the FAQs on the website, validation never takes less than 30 days, and additional clarifications may be requested.
The application deadline is November 30, but the earlier you submit your application, the better your chances of receiving this support, which can amount to €500 for urban electric bicycles.
If you combine this support with the VAT discount, valid only for deliveries in Portugal, it means you can get your 50 Rebels for nearly €1000 less than the list price. To receive your personalized discount code, please contact us at sales@50rebels.com or via WhatsApp at 910056615.
On the Fundo Ambiental website, it is possible to check the link to the applications submitted in real-time and track their progress.
You should verify the number of applications submitted and the number of available applications.
However, when the number of submitted applications reaches the number of available applications, which is 4450, and assuming your application is number 4451 or 4452, it does not mean that you won't receive the support.
As we mentioned earlier, applications are validated, and not all of them are eligible.
Applications can be excluded for various reasons, which we will now list:
The bicycle is not intended for urban use.
The applicant was unable to provide a valid Certificate of Non-Debt from Autoridade Tributária e Aduaneira (Tax and Customs Authority).
The applicant was unable to provide a Certificate of Non-Debt from Segurança Social (Social Security).
However, since the process sometimes takes longer than the 90-day validity of the documentation, it may be necessary to reapply and submit new certificates through the platform. In these cases, the applicant will be contacted and informed that they have a deadline of x days to rectify their application. These are the applications you will find in the table marked as "Awaiting additional elements." Therefore, please keep an eye on your email.
When the number of applications exceeds 4450, all subsequent applications are placed in the Waiting List column, which is currently at 0.
Since it is an electric bicycle model for urban use, all 50 Rebels bicycles (250W, 500W, and 750W) are eligible for this support.
Fundo Ambiental aims to continue the implementation of measures to accelerate the adoption of alternative and environmentally friendlier traction energies, such as 100% electric traction, given its clear contribution to decarbonization, air quality improvement, noise reduction, and traffic reduction.
VAT & Fundo Ambiental
Contact Us & Save!
You just need to fill out a quick form, and our team will provide you with a discount code. It will take you less than 1 minute!